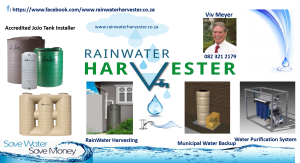 Our Story
RAINWATER HARVESTER IS AN ACCREDITED JOJO TANK INSTALLER
RainWater Harvester was established in August 2016 due to the water shortage in the country, and water restrictions. South Africa is currently in a drought, and it is of utmost importance to Harvest, Collect and Preserve water wherever possible.
Rainwater harvesting not only serves conservation of water, but is also of financial benefit to all who harvest rainwater, and can reduce your water bill by at least half. Rainwater is FREE, so Harvest and Gain from Rain, Save Water it is Precious, and Water is Life. It is recommended that all residential buildings should have at least a 48 hour Emergency Water Supply.
Our Vision
The vision of RainWater Harvester is to create awareness amongst the population in the Urban and Rural areas, and provide an alternative to Service Delivery for the provision of water .
To provide a continuous source of water for the population to enjoy free of charge, and to alleviate water provision by the municipalities and ease the water requirement from our dams and reservoirs.
Our Mission
RainWater Harvester would like to reach 25% of the Residential and Industrial Market in the next 5 years by providing exceptional products and services in the RainWater Harvesting Market.